Sesame Street (dot) org has a number of developmental resources on multiple topics ranging from asthma and autism, to daily routines, dealing with divorce, traumatic experiences, and parental addiction.
These resources can be helpful inside or outside of clinical settings to support children dealing with difficult circumstances. One can search through the resources based on topic, and further filter the search results based on the age of the child, and/or the length of time it takes to complete the development activity. All these resources are available in English as well as Spanish, and you can also sign up to be notified by email whenever new resources are available.
The resources focus on physical health, strong connections to others, and being empowered to get the help that a child needs. Examples include resources that help establish healthy routines, learn about whole body health, whole child wellness, and having a fun, healthy morning together. Activities in the Parental Addiction section provide some wonderful messages when talking about emotions, recognizing that each child is special, the importance of friends, and reminding children that parental addiction isn't their fault.
You can find more resources related to child development by selecting the "child development" dropdown tab on our Social Service "Utilization Library" page.
-AMAZONPOLLY-ONLYAUDIO-START- You can find links to the resources mentioned in this episode with the written version of this story on our website at cincinnati, dot, united resource connection, dot, org. You've been listening to the Hamilton County Ohio Social Service News, now available as a podcast on Amazon Music, Audible, Apple & Google Podcasts, iTunes, and Spotify. If you have social service news to submit to this podcast, visit cincinnati dot united resource connection dot org. Once there you can also subscribe to get a free summary of the past week's local social service news stories emailed to you every Saturday morning. So subscribe to our e-newsletter and podcast, and visit us online to discover more social service news and resources. -AMAZONPOLLY-ONLYAUDIO-END-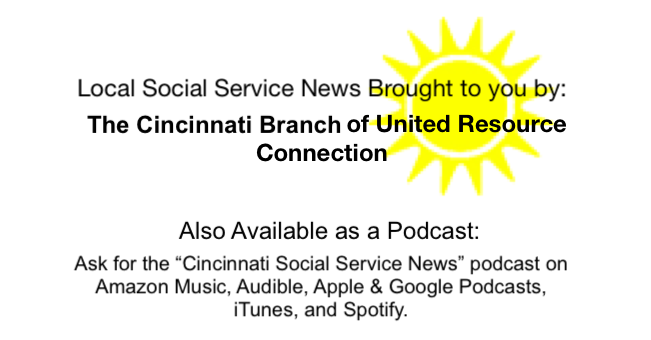 Shared by: United Resource Connection February 3, 2023