The social security administration has instructions on how to change the sex identification for your social security records. To change the sex identification on your Social Security record you do NOT need to provide medical or legal evidence of your sex designation.
You will need to provide evidence to prove your identity, and sometimes citizenship or immigration status. The sex identification shown on these documents, can be binary (male or female) or non-binary (such as X). The sex identification on documents proving your identity does NOT have to match the sex identification currently on your Social Security record, or the sex identification you request.
Currently, the Social Security record systems require a sex designation of female or male, and cannot accommodate a non-binary or unspecified sex designation, such as X. They do report on their website that they are examining ways to address this in the future.
How to Prove Your Identity: Gather Supporting Documents
Social Security can accept only certain documents as proof of identity. An acceptable document must be current (not expired) and show your name, identifying information (such as date of birth or age) and, preferably, a recent photograph. For this Social Security can accept your U.S. driver's license, a State-issued non-driver identification card, or a U.S. passport.
If you don't have one of these specific documents, or you can't get a replacement for one of them within 10 days, Social Security will ask to see other documents, including your Employee identification card, your School identification card, your Health insurance card (not a Medicare card), or U.S. military identification card.
You will also need to demonstrate U.S. Citizenship or Immigration Status
Social Security can only accept certain supporting documents for this:
If you were born in the U.S., they will need to see proof of U.S citizenship. Acceptable documents include a U.S. birth certificate or U.S. passport.
If you were not born in the U.S., but have become a U.S. citizen, they will need to see proof of your U.S. citizenship. These documents include: U.S. passport, Certificate of Naturalization (N-550/N-570), Certificate of Citizenship (N-560/N-561), Certification of Report of Birth (DS-1350), Consular Report of Birth Abroad (FS-240). These forms are not all found online. Many forms must be completed only by a Social Security Representative. You can call the Social Security Administration or contact your local Social Security office for more information about any of these supporting documents.
If you are not a U.S. citizen, to prove your U.S. immigration status, you must show your current U.S. immigration document, such as Form I-551 (Lawful Permanent Resident Card, Machine Readable Immigrant Visa) with your unexpired foreign passport. You must additionally provide an I-94 (Arrival/Departure Record) or admission stamp in the unexpired foreign passport.
If you're an F-1 or M-1 student, you also must provide your I-20 (Certificate of Eligibility for Nonimmigrant Student Status).
If you're a J-1 or J-2 exchange visitor, you also must provide your DS-2019 (Certificate of Eligibility for Exchange Visitor Status).
Information about many of these immigration forms can be found on the U.S. Department of Immigration Services website.
You can complete an Application for a Social Security Card once you have all your required supporting documents.
The Social Security Card application is a fillable pdf form that requires your signature and the supporting documents previously mentioned. The final step is to take or mail this signed application with your supporting documents to any Social Security office. The supporting documents you mail to Social Security will be returned to you. The application form has a link to help you find the closest Social Security office or Social Security Card Center in your area if you prefer to deliver the documents in person. All documents must be either originals or copies certified by the issuing agency. Social Security can't accept photocopies or notarized copies of documents.
You can find more resources related to diversity and inclusion, IDs and citizenship, by selecting these dropdown tabs from our Social Service "Utilization Library" page.
-AMAZONPOLLY-ONLYAUDIO-START- You can find links to the resources mentioned in this episode with the written version of this story on our website at cincinnati, dot, united resource connection, dot, org. You've been listening to the Hamilton County Ohio Social Service News, now available as a podcast on Amazon Music, Audible, Apple & Google Podcasts, iTunes, and Spotify. If you have social service news to submit to this podcast, visit cincinnati dot united resource connection dot org. Once there you can also subscribe to get a free summary of the past week's local social service news stories emailed to you every Saturday morning. So subscribe to our e-newsletter and podcast, and visit us online to discover more social service news and resources. -AMAZONPOLLY-ONLYAUDIO-END-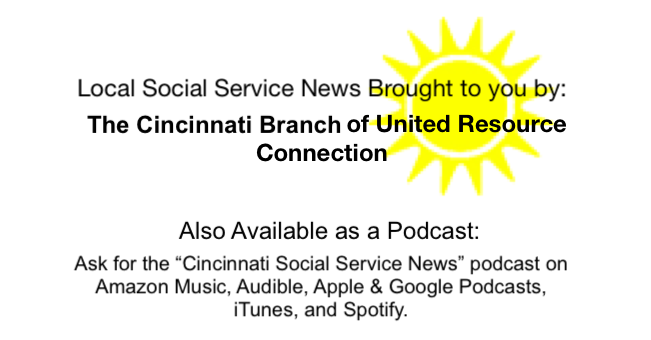 Shared by: United Resource Connection February 7, 2023