Amazon is cutting free grocery delivery for Prime members on orders less than $150. Customers who get their groceries delivered from Amazon Fresh and pay less than $150 — will be charged between $3.95 and $9.95, depending on the order size. The changes will go into effect February 28th, 2023.
EBT and Medicaid cardholders get a discount on Amazon Prime, paying only $6.99 monthly for the service. As Amazon allows online EBT payment for groceries, the free delivery of groceries to your door is of great assistance to low income individuals and families who struggle with transportation services.
EBT and Medicaid cardholders who are signed-up for the Amazon Prime discount program, can still get free delivery of groceries, as long as the grocery orders are over $150. Delivery driver tips and non-grocery items can not be billed to your EBT card, so you will need to additionally have a credit/debit card connected to your account to pay for these items.
Amazon Prime includes free Two-Day Delivery on a number of other items, as well as discounts on diapers and baby food. Prime has a number of entertainment benefits too, like access to free movies, TV shows, music, and Kindle books. You can find other resources related to food security and financial assistance by visiting our Social Service "Utilization Library" page.
-AMAZONPOLLY-ONLYAUDIO-START- You can find links to the resources mentioned in this episode with the written version of this story on our website at cincinnati, dot, united resource connection, dot, org. You've been listening to the Hamilton County Ohio Social Service News, now available as a podcast on Amazon Music, Audible, Apple & Google Podcasts, iTunes, and Spotify. If you have social service news to submit to this podcast, visit cincinnati dot united resource connection dot org. Once there you can also subscribe to get a free summary of the past week's local social service news stories emailed to you every Saturday morning. So subscribe to our e-newsletter and podcast, and visit us online to discover more social service news and resources. -AMAZONPOLLY-ONLYAUDIO-END-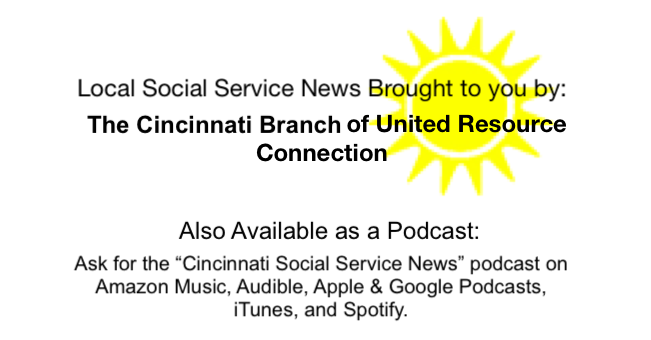 Shared by: United Resource Connection February 9, 2023