Drugsite Trust publishes an informational website about medications, which is designed for both consumers and health professionals, in partnership with the U.S. Food & Drug Administration. It has a number of FREE online tools that can help with common medication issues. The tools include a pill identification tool, a drug interactions checker, and a medication side effect database. They also provide free, peer-reviewed, independent data on more than 24,000 prescription drugs, over-the-counter medicines & natural products. All of these tools are available on the website and mobile app, drugs.com, allowing you to lookup drug information, identify pills, check interactions and set up your own personal medication records, free of charge.
Need help to identify that pill?
Worried about some capsules found in your teenager's room? Not sure about those leftover pills still in the bathroom cabinet? There's a good chance that their Pill Identification Wizard, can help you match the imprint, size, shape, or color, and lead you to a detailed description in their drug database.
Are you at risk for drug interactions?
Anytime you take more than one medication, or even mix it with certain foods, beverages, or over-the-counter medicines, you are at risk of having a drug interaction. Most drug interactions are not serious, but because a few are, it is important to check. The Drug Interactions Checker Tool allows you to enter a drug name and select the best match from the list of suggestions, and repeat the process to add multiple drugs. The tool allows you to save your list to add additional medications that may be prescribed in the future. It also allows you to email these resulting drug interaction reports to a client, colleague, friend or family member.
There are several types of interactions. There drug-to-drug interactions, such as when a pain medication like Vicodin, has a greater sedative effect when mixed with over-the-counter antihistamines, such as Benadryl. There are drug-to-food-and-beverage interactions, such as how grapefruit juice can lower the levels of enzymes in your liver responsible for breaking down medications, leading to higher levels of the medication in your blood, and thereby greater toxicity. There are also drug-to-disease interactions such as when high blood pressure is worsened by over-the-counter decongestants like Sudafed.
While the Drug Interactions Checker tool allows you to check for interactions between medications, vitamins, and a number of illicit drugs, it does not provide a way to search for food and beverage interactions, or interactions that may occur due to age or disease. You'll need to consult elsewhere for information on those possible interactions. Contact your doctor or pharmacist if you discover you're at risk for a possible drug interaction. They will be able to recommend the next best steps you should take.
Need information about drug side effects?
A side effect is usually regarded as an undesirable secondary effect, which occurs in addition to the desired therapeutic effect, of a drug or medication. Side effects may vary for each individual, depending on the person's disease state, age, weight, gender, ethnicity and general health.
Side effects can occur when commencing, decreasing/increasing dosages, or ending a drug or medication regimen. Side effects may also lead to non-compliance with prescribed treatment. When side effects of a drug or medication are severe, the dosage may be adjusted or a second medication may be prescribed. Lifestyle or dietary changes may also help to minimize side effects.
You can search drug side effects using the Drug Side Effects Checker Tool. Simply enter the name of your medication, and information about any known side effects will be presented. Again, these results are placed into a report that can be freely sent to a client, colleague, friend or family member. Note that often many side effects of medications are not reported. If you believe you are having side effects that are not listed, you can report this to the FDA online, or call the FDA at 1-800-332-1088.
This article was written by Stefan C. Densmore for United Resource Connection. You can find more resources related to medication and primary care by selecting the "medications" and/or "primary care" option from the dropdown tab on our Social Service "Utilization Library" page.
-AMAZONPOLLY-ONLYAUDIO-START- You can find links to the resources mentioned in this episode with the written version of this story on our website at cincinnati, dot, united resource connection, dot, org. You've been listening to the Hamilton County Ohio Social Service News on Apple Podcasts. If you have social service news to submit to this podcast, visit cincinnati dot united resource connection dot org. Once there you can also subscribe to get a free summary of the past week's social service news stories emailed to you every Saturday morning. So visit us online to discover more social service news and resources. -AMAZONPOLLY-ONLYAUDIO-END-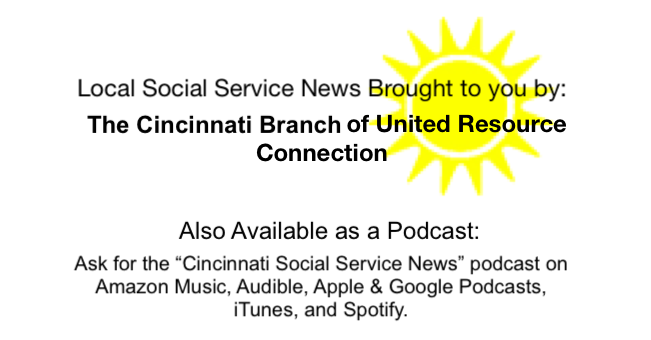 Shared by: United Resource Connection October 7, 2022

Tags: Archive