Data shows a significant national rise in Opioid Use Disorder and babies with Neonatal Opioid Withdrawal Syndrome presenting at hospitals for labor and delivery. The tragic nature of this situation does not always produce compassion and best practices toward the mother or infant, even among well intentioned care providers.
Two registered nurses, Dr. Kantrowitz-Gordon and Dr. Rizza Cea, have developed a training video to promote compassionate quality care for these mothers and their newborn infants. The video follows two women—one in recovery, and the RN who cared for her at the hospital.
The video is meant to be helpful for case workers and treatment teams, and anyone interested in supporting recovery and a healthy mother-child bond in these relationships. The video is 45 minutes and available for free.
You can find more child development resources by selecting the "Child Development" option from the dropdown tab on our Social Service "Utilization Library" page.
-AMAZONPOLLY-ONLYAUDIO-START- You can find links to the resources mentioned in this episode with the written version of this story on our website at cincinnati, dot, united resource connection, dot, org. You've been listening to the Hamilton County Ohio Social Service News, now available as a podcast on Amazon Music, Audible, Apple & Google Podcasts, iTunes, and Spotify. If you have social service news to submit to this podcast, visit cincinnati dot united resource connection dot org. Once there you can also subscribe to get a free summary of the past week's local social service news stories emailed to you every Saturday morning. So subscribe to our e-newsletter and podcast, and visit us online to discover more social service news and resources. -AMAZONPOLLY-ONLYAUDIO-END-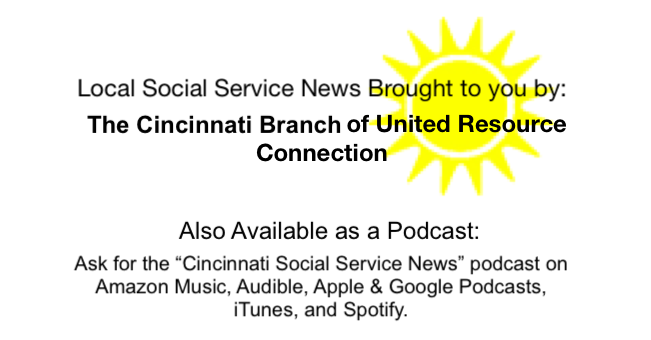 Shared by: United Resource Connection March 1, 2023