This month is Women's History Month. Women's History Month is designated as an educational endeavor to increase awareness not just of the contributions but also the unique experiences of women in our history.
Women's History Month is officially recognized in the United States, the United Kingdom, and Australia, corresponding with International Women's Day (March 8th). International Women's Day was first designated to commemorate women successfully championing their right to vote (which occurred in New Zealand in 1893, South Australia in 1894, Soviet Russia in 1917, Sweden in 1919, the United States in 1920, and Canada in 1929), but is now more so a commemoration of the right to fair treatment with dignity in all one's self determined endeavors.
Every U.S. President since 1988 has proclaimed March as Women's History Month. The first President who acknowledged the significance of women's history (in 1980) said: "From the first settlers who came to our shores, from the first American Indian families who befriended them, men and women have worked together to build this nation. Too often the women were unsung and sometimes their contributions went unnoticed. But the achievements, leadership, courage, strength and love of the women who built America was as vital as that of the men whose names we know so well." He went on to say that women's history is a right: "It is an essential and indispensable heritage from which we can draw pride, comfort, courage, and long-range vision." "Understanding the true history of our country will help us to comprehend the need for full equality under the law for all our people." [President Carter.]
Much of women's history and collective experience wasn't known by women or men until it was taught in school. By highlighting extraordinary women this month, children –and adults alike– are provided examples to look-up to, emulate, and have pride in. But Women's History Month is not just about highlighting extraordinary individuals, but also highlighting common experiences that are unacceptable in a land where we are striving for equality in both liberty and justice. There are accounts of women and girls that have had experiences that no one would want for children –or anyone else– to have to suffer. Unfortunately, without the focus to which this month is devoted, many of us would not know that such experiences occurred or continue to occur.
So expand your knowledge this month! Learn more about extraordinary women, as well as more about the experiences that continue to be barriers to women, the barriers we collectively still need to address if we are to live closer to that ideal of equality in both liberty and justice, upon which our nation is founded. Here are some resources to that end:
Resources for Teachers from the Library of Congress and National Archives
Educational Resources from the National Women's History Museum
PBS (Public Broadcasting Service) Women's History Video Archive
Scholastic Women's History Month Collection of Teaching Resources
Anti-Defamation League Resources for Women's History Month
You can find more resources related to diversity and inclusion by selecting the "diversity and inclusion" dropdown tab on our Social Service "Utilization Library" page.
-AMAZONPOLLY-ONLYAUDIO-START- You can find links to the resources mentioned in this episode with the written version of this story on our website at cincinnati, dot, united resource connection, dot, org. You've been listening to the Hamilton County Ohio Social Service News, now available as a podcast on Amazon Music, Audible, Apple & Google Podcasts, iTunes, and Spotify. If you have social service news to submit to this podcast, visit cincinnati dot united resource connection dot org. Once there you can also subscribe to get a free summary of the past week's local social service news stories emailed to you every Saturday morning. So subscribe to our e-newsletter and podcast, and visit us online to discover more social service news and resources. -AMAZONPOLLY-ONLYAUDIO-END-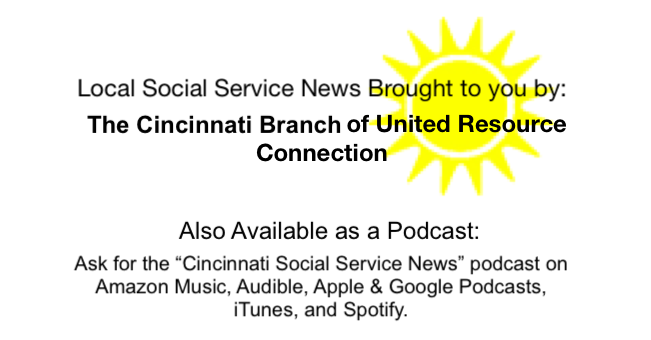 Shared by: United Resource Connection March 1, 2023