United Resource Connection is seeking Medicaid and SNAP recipients for input and feedback about local support programs and services. One of the goals of United Resource Connection is to make access to support services more user-friendly. One of the ways we do this is by providing more than phone numbers and addresses to area services, but also direct links to application forms for those services, to facilitate quicker access to care. We also provide a social service news channel, online and via e-newsletter and podcast, to alert social workers and service recipients about new resources and changes in application protocols. We try to make the service connection process easier, for individuals and families in need, as well as those trying to help.
All that being said, systemic improvement requires input and feedback from those being served. Medicaid and SNAP recipients are eligible for many other local services. They may not know some of these services even exist. It is our hope that we can learn from Medicaid and SNAP recipients, about the most frustrating dynamics they deal with in accessing various services. This information will help direct our focus in several ways. First, in cases where frustration was the result of gaps of information about an application process, we can better work toward filling those gaps for the public, in our news feed. Second, in cases where frustration was the result of a systemic failure of organizations to effectively collaborate with one another, we can advocate for specific changes behind the scenes to address these failures. And third, we can provide direct advocacy and support, to those on this advisory board, to help them access additional resources.
So if you know a Medicaid or SNAP recipient who you believe would be interested, please let them know about this opportunity. By using one of the "sharing" buttons at the top of the written version of this bulletin, you can send a copy of this article directly to them. If you are a Medicaid or SNAP recipient who would like to join our advisory board, please contact us. Simply state in your message your interest in participation on the advisory board, and we will respond with more information.
Like most nonprofit boards, the advisory board is a volunteer position, not a paid position. Communication with those who volunteer to serve on the advisory board will be via phone and email. Those who are comfortable with video conferencing and/or meeting in person will also have that option as well. As mentioned previously, participants will be asked to share their stories of frustration about various aspects of the service connection process. We will not share the names of any participants publicly or outside our organization. As was previously mentioned, we will also help advisory board members identify and access additional resources to help them and their family.
While we have a policy that does not allow solicitation for donations by organizations whose resources and services we feature on our news feed, we occasionally exempt ourselves from this rule, and this is one of those occasions! If you would like to support our efforts to form this advisory board, and receive a report of our findings, you can do so by making a tax deductible donation to United Resource Connection. You can learn more about other ways to support us, as well as how to access programs that match your donation, on our website at United Resource Connection (dot) org.
This post was composed by Stefan C. Densmore, who serves as the President, CEO, & Janitor of United Resource Connection.
-AMAZONPOLLY-ONLYAUDIO-START- You can find links to the donation button and the contact information mentioned in this episode with the written version of this story on our website at cincinnati, dot, united resource connection, dot, org. You've been listening to the Hamilton County Ohio Social Service News on Apple Podcasts. If you have social service news to submit to this podcast, visit cincinnati dot united resource connection dot org. Once there you can also subscribe to get a free summary of the past week's social service news stories emailed to you every Saturday morning. So visit us online to discover more social service news and resources. -AMAZONPOLLY-ONLYAUDIO-END-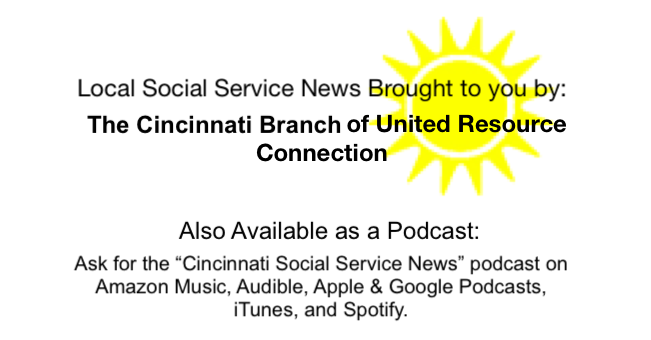 Shared by: United Resource Connection January 4, 2023