A free, evidence-based online course, Fentanyl Facts and Overdose Risk, has been developed in partnership with the Addiction Policy Forum and the National Institute on Drug Abuse. 
The course discusses facts about fentanyl in the U.S., the increasing risk of overdose, and resources for communities to address the increasing risks. 
Fentanyl is a synthetic opioid, 50 to 100 times more potent than morphine. These synthetic opioids are now the most common drugs involved in drug overdoses in the United States, according to the Centers for Disease Control.
Counterfeit drugs made to look like the prescription drugs of Adderall and Oxycontin regularly have fentanyl added to make them more potent. Because these are unregulated, the amount of fentanyl in them can vary quite significantly, and are frequently resulting in user overdose. At historically high levels, these deaths include users who thought they were using someone else's prescription medication. This danger of counterfeit drugs underlines the importance of only using drugs personally received from your pharmacy.
Deadly overdoses are also occurring because addicts are not aware of how quickly their biological tolerance can drop off with short periods of fentanyl abstinence. In such cases a user may ingest the same amount of fentanyl after detox that they were using before detox, but die because they lost their biological tolerance that quickly. The course is meant to raise awareness among practitioners, law enforcement, public health officials, and individuals and families that may be at risk.
The course features presentations from leading researchers and practitioners, including: Dr. Wilson Compton, Deputy Director, National Institute on Drug Abuse; and Sean Fearns, Chief of Community Outreach, Drug Enforcement Administration; Dr. David Tarantino, Senior Medical Advisor to US Customs & Border Protection; and Dr. Brandon del Pozo, Assistant Professor at Brown University and Former Chief of Police in Burlington, Vermont.
The course takes approximately 20 minutes to complete. Registration is free. You can learn more on the course website.
You can find more resources related to drug education and addiction treatment by selecting the "addiction treatment" option from the dropdown tab on our Social Service "Utilization Library" page.
-AMAZONPOLLY-ONLYAUDIO-START- You can find links to the resources mentioned in this episode with the written version of this story on our website at cincinnati, dot, united resource connection, dot, org. You've been listening to the Hamilton County Ohio Social Service News, now available as a podcast on Amazon Music, Audible, Apple & Google Podcasts, iTunes, and Spotify. If you have social service news to submit to this podcast, visit cincinnati dot united resource connection dot org. Once there you can also subscribe to get a free summary of the past week's local social service news stories emailed to you every Saturday morning. So subscribe to our e-newsletter and podcast, and visit us online to discover more social service news and resources. -AMAZONPOLLY-ONLYAUDIO-END-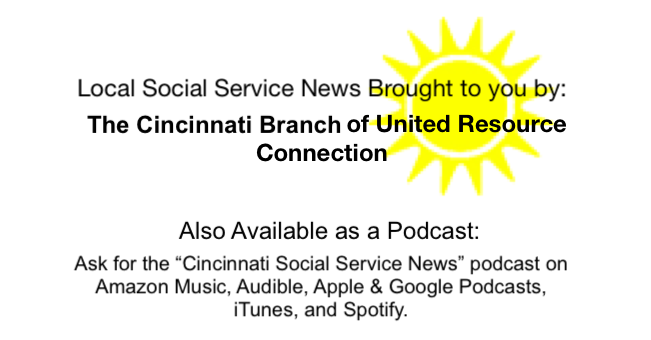 Shared by: United Resource Connection February 24, 2023