Two federal courts have ruled that the federal student debt relief program may not have proper authorization. Consequently, the processing of applications that have already been received by the program will be be delayed until the federal court cases are resolved favorably.
Even though the processing of applications had stopped last month, (as we updated in our October 17th article titled, "Application for Federal Student Debt Relief"), one could still technically submit an application through the portal, and receive a confirmation that the application was received. This past weekend, however, the application portal stopped accepting applications.
The U.S. Department of Education has stated they will quickly process the student debt relief applications once the federal court cases are resolved favorably. Legal experts expect that these court cases will likely be sent to the Supreme Court for resolution. About 26 million people have applied, and 16 million applications have been approved to date. The Education Department said on its website that it would hold on to the applications for those who have already applied until the legal challenges play out.
Student Debt Payments May Resume in January
People with student loan debt have not been required to make payments during the pandemic. But payments are set to resume, and interest to accrue again, starting in January, 2023. The U.S. Department of Education has said that the payment pause would not be extended again, but that was before these recent court rulings about the Student Debt Forgiveness program. Some advocates are petitioning that the pause be continued WHILE the legal challenges to the loan forgiveness program play out, but there has been no update to date on this possibility.
We will continue to follow the story, and report if there is another extension on student debt payment due dates. We'll also report if the application portal for federal student debt relief is reopened.
You can find more resources related to financial assistance by selecting the "Financial Resources" option from the dropdown tab on our Social Service "Utilization Library" page.
-AMAZONPOLLY-ONLYAUDIO-START- You can find links to the resources mentioned in this episode with the written version of this story on our website at cincinnati, dot, united resource connection, dot, org. You've been listening to the Hamilton County Ohio Social Service News, now available as a podcast on Amazon Music, Audible, Apple & Google Podcasts, iTunes, and Spotify. If you have social service news to submit to this podcast, visit cincinnati dot united resource connection dot org. Once there you can also subscribe to get a free summary of the past week's social service news stories emailed to you every Saturday morning. So subscribe to our podcast, and visit us online to discover more social service news and resources. -AMAZONPOLLY-ONLYAUDIO-END-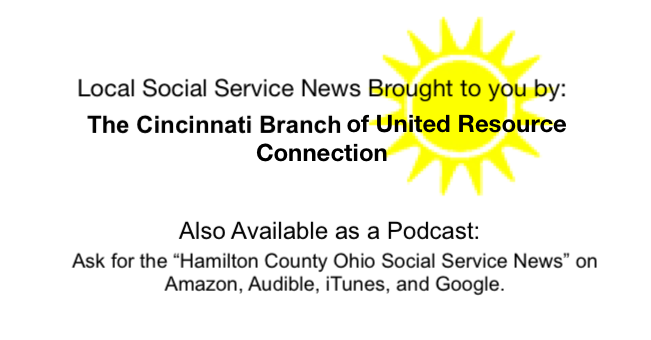 Shared by: United Resource Connection November 15, 2022

Tags: Archive