Camp Erin is the largest national bereavement program for youth and families who have experienced the death of someone significant in their lives. Traditionally, Camp Erin partners with grief organizations to offer bereavement camps where youth learn to grieve and heal. In 2022, they expanded their reach by launching Camp Erin Online.
Camp Erin Online programming includes family camps, support groups, expression activity workshops and more. Just like traditional Camp Erin programming, Camp Erin Online is led by grief support professionals and caring volunteers offering a combination of traditional, fun camp activities with grief education and emotional support. At the camp children can tell their story in a safe environment; process grief in healthy ways; meet other youth and families with shared experiences; build a tool-box of coping skills; honor and memorialize their loved ones; and have fun.
Programming will incorporate a mixture of live Zoom meetings, recorded videos and guided independent family activities. Families will receive a camp kit one week prior to camp with all necessary program supplies. As always, Camp Erin programming is free of charge for all participants.
The first Camp Erin Online Family Workshop will take place on December 3rd, 2022. This family support workshop will be focussed on Gratitude and Grief. Priority will be given to frontline healthcare workers and other families grieving the death of someone from COVID-19, as well as families grieving a death that occurred as recently as 2020. Additional Family Support Workshops will be announced in early 2023.
Registration requires several steps including a family application, online family interview, and completion of consent forms. You can get this process started, or request more information about the program, via a link on their webpage.
You can find more resources related to child development and mental health by selecting the "child development" and/or "mental health" option from the dropdown tab on our Social Service "Utilization Library" page.
-AMAZONPOLLY-ONLYAUDIO-START- You can find links to the resources mentioned in this episode with the written version of this story on our website at cincinnati, dot, united resource connection, dot, org. You've been listening to the Hamilton County Ohio Social Service News, now available as a podcast on Amazon Music, Audible, Apple & Google Podcasts, iTunes, and Spotify. If you have social service news to submit to this podcast, visit cincinnati dot united resource connection dot org. Once there you can also subscribe to get a free summary of the past week's local social service news stories emailed to you every Saturday morning. So subscribe to our e-newsletter and podcast, and visit us online to discover more social service news and resources. -AMAZONPOLLY-ONLYAUDIO-END-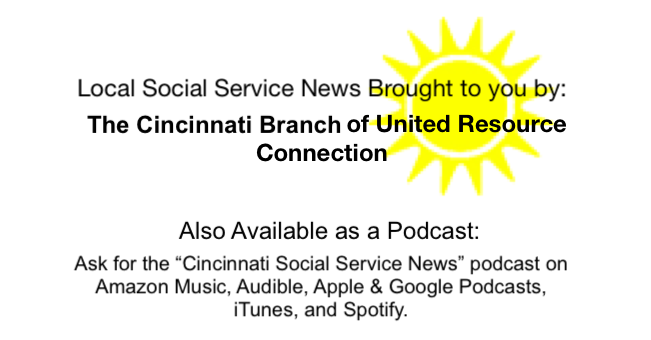 Shared by: United Resource Connection November 30, 2022