Required Federal Student Loan repayments will be suspended while the U.S. Supreme Court considers whether the Federal Student Loan forgiveness program has proper authorization.
Federal Student Loan repayments were previously paused in March 2020 to help people who were struggling financially due to the Covid-19 pandemic. Borrower balances have effectively been frozen since then, with no payments required on most federal student loans. During this time, interest has stopped adding up and collections on defaulted debt have also been on hold.
The suspension of these payments would become permanent under the Federal Student Loan Forgiveness Program, but whether that program has proper authorization been questioned by lower courts. The pause in payments was set to expire in January 2023, but the U.S. Department of Education had told borrowers that the forgiveness program would be implemented before those loan payments would be due.
The current continued pause in required payments states that payments will last until 60 days after the court litigation is resolved. If the forgiveness program has not been implemented and the litigation has not been resolved by June 30, 2023, payments will resume 60 days after that, according to the Department of Education.
If the Supreme Court determines that the forgiveness program does not have proper authorization, there are several programs that can still be used to further defer payments for individuals and families who are struggling. Eligibility requirements for student loan deferment programs can be found on the U.S. Department of Education's Student Loan Deferment page. These federal programs allow eligible individuals to pause student loan payments for up to three years. More information about current student loan deferment programs can be found on the website of the U.S. Department of Education.
You can find more resources related to child development and mental health by selecting the "child development" and/or "mental health" option from the dropdown tab on our Social Service "Utilization Library" page.
-AMAZONPOLLY-ONLYAUDIO-START- You can find links to the resources mentioned in this episode with the written version of this story on our website at cincinnati, dot, united resource connection, dot, org. You've been listening to the Hamilton County Ohio Social Service News, now available as a podcast on Amazon Music, Audible, Apple & Google Podcasts, iTunes, and Spotify. If you have social service news to submit to this podcast, visit cincinnati dot united resource connection dot org. Once there you can also subscribe to get a free summary of the past week's local social service news stories emailed to you every Saturday morning. So subscribe to our e-newsletter and podcast, and visit us online to discover more social service news and resources. -AMAZONPOLLY-ONLYAUDIO-END-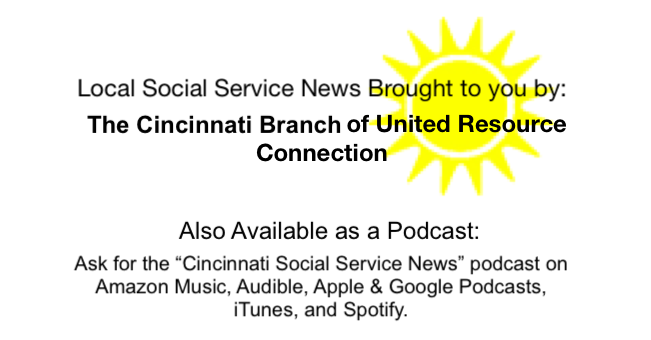 Posted by: United Resource Connection on November 26, 2022