An Advance Healthcare Directive is a legal document that specifies your wishes for end-of-life healthcare, and who should make healthcare decisions on your behalf if you are unable to do so. It is also known as a living will, advance directive, or medical directive.
Having an advanced healthcare directive is crucial for both oneself and the loved ones around them. It allows individuals to express their healthcare preferences and make important decisions regarding their medical treatment in case they become incapacitated or unable to communicate. This legal document ensures that an individual's wishes are respected, providing a sense of control and autonomy during a difficult and emotionally charged time. Moreover, an advanced healthcare directive also relieves the burden placed on family members and friends who may struggle to make critical medical decisions on behalf of their loved ones. By having this directive in place, everyone involved can find peace of mind, knowing that their healthcare choices align with their values and beliefs. Ultimately, having an advanced healthcare directive ensures that an individual's desires are honored, while simultaneously reducing emotional distress for their loved ones.
Advanced Healthcare Directives can be completed online, free of charge, and are not legally binding until printed out and signed. Having the process freely available online increases accessibility, and transparency about the .
FreeWill, a public benefit organization advocated by Equality Ohio and other legal aid organizations, provides a free online service for creating Advanced Healthcare Directives. The process is relatively simple and comprised of three steps:
1. Fill out online. It only takes about 20 minutes to fill out the information needed to create the Advanced Healthcare Directive.
2. Print out forms. The information you provide is combined with the legal language necessary and provided back to you as a printable Advanced Healthcare Directive.
3. Sign & keep safe. To make the Advanced Healthcare Directive official, follow the included instructions to sign and finalize it. Keep your Advanced Healthcare Directive somewhere safe but accessible, and make sure your loved ones know where it is.
The FreeWill organization freely provides other legal forms that enable one to easily create a Last Will & Testament, Designate Beneficiaries, and or create a Financial Power of Attorney. All forms are available to fill out online and print, with instructions on what information you will need to gather to complete of the forms. You can learn more about the FreeWill organization and the free legal forms they make accessible by visiting their website at freewill.com.
You can find more resources related to legal aid by selecting the "Legal Aid" category tab on our "Social Service Utilization Library" page.
-AMAZONPOLLY-ONLYAUDIO-START- You can find links to the resources mentioned in this episode with the written version of this story on our website at cincinnati, dot, united resource connection, dot, org. You've been listening to the Cincinnati Social Service News, now available as a podcast on Amazon Music, Audible, Apple & Google Podcasts, iTunes, and Spotify. If you have social service news to submit to this podcast, visit cincinnati dot united resource connection dot org. Once there you can also subscribe to get a free summary of the past week's local social service news stories emailed to you every Saturday morning. So subscribe to our e-newsletter and podcast, and visit us online to discover more social service news and resources. -AMAZONPOLLY-ONLYAUDIO-END-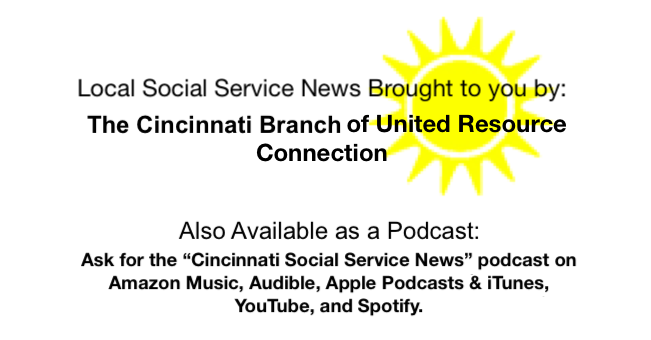 Posted by: United Resource Connection on August 29, 2023