Starting in 2024, recipients of the Supplemental Nutrition Assistance Program (SNAP) will gain the ability to utilize their benefits for grocery deliveries through Uber Eats. Uber Eats is an online food ordering and delivery platform launched by Uber in 2014. Couriers deliver meals using cars, scooters, bikes, or on foot. Instructions for using the Uber Eats app are available online.
Uber Eats is not the only delivery app company to accept food stamps. Instacart accepts food stamps in all 50 states through a partnership with Aldi grocery stores. Walmart also accepts SNAP in some states, and Amazon and Kroger both offer local food delivery services.
Many individuals on a fixed income and/or without reliable transportation struggle with grocery shopping, sometimes even wheeling grocery carts to the closest bus stop. Low cost and FREE delivery services for groceries can be a big help, but there are a number of factors to weight in determining whether delivery services or worth it.
Here are some of the advantages to these delivery services for consideration:
1) Convenience: Delivery services save time and effort by eliminating the need for traveling to the store and waiting in lines. 2) Accessibility: For individuals with limited mobility or transportation options, delivery services provide access to a wider range of groceries. 3) Health and safety: For those with health concerns, delivery services minimize exposure to crowded spaces and potential infections. 4) Meal planning and budgeting: Online shopping allows SNAP recipients to compare prices, easily access nutritional information, and plan meals accordingly. 5) Expanded food choices: Some delivery services offer a broader selection of fresh produce, organic products, and specialized dietary options.
Delivery services may NOT be worth it in other situations. Here are some considerations: 1) Additional fees: Delivery services often charge fees for delivery, service, or both, which can add up and impact the affordability of grocery shopping. Typically, the delivery fee ranges from $0.99 to $4.99. A service fee will also be applied to your order, covering taxes and other expenses. There may also be an additional charge for smaller orders. 2) Limited store selection: Depending on the service, SNAP recipients may have access to a limited number of stores, reducing the variety of products available. 3) Substitution issues: There is a chance that the specific items ordered may not be available, and substitutions made by the delivery service may not always meet the recipient's preferences or dietary needs. 4) Dependence on technology: Access to a smartphone or computer and a reliable internet connection is necessary for using delivery services, which may pose challenges for some SNAP recipients. 5) Lack of in-store benefits: Shopping in-store may allow SNAP recipients to take advantage of certain discounts, promotions, or coupons that may not be applicable for online purchases.
Ultimately, SNAP recipients and their advocates should carefully consider circumstances and budget to determine if these grocery delivery services are worth it for them. You can find more resources related to financial and food resources by selecting the "Financial Resources" and or "Food & Clothing" category tabs on our "Social Service Utilization Library" page.
-AMAZONPOLLY-ONLYAUDIO-START- You can find links to the resources mentioned in this episode with the written version of this story on our website at cincinnati, dot, united resource connection, dot, org. You've been listening to the Cincinnati Social Service News, now available as a podcast on Amazon Music, Audible, Apple & Google Podcasts, iTunes, and Spotify. If you have social service news to submit to this podcast, visit cincinnati dot united resource connection dot org. Once there you can also subscribe to get a free summary of the past week's local social service news stories emailed to you every Saturday morning. So subscribe to our e-newsletter and podcast, and visit us online to discover more social service news and resources. -AMAZONPOLLY-ONLYAUDIO-END-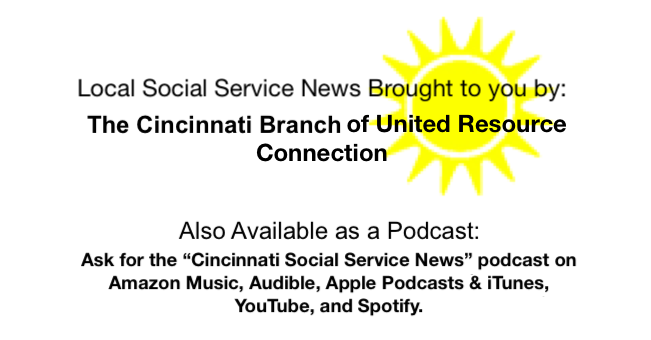 Posted by: United Resource Connection on September 21, 2023